Main content starts here, tab to start navigating
Big Fish Grille featuring Metal Monkey Brewing, is proud to announce our 1st Beer Dinner of the Season. We will be incorporating Furious George, Bikini Bottom and Funky Monker in our dishes, one of each will be provided with each course. Tickets are being sold for $60 each and are limited, so get them before seats run out.
Course 1 - Pale Ale steamed clams and mussels finished with bacon lardons, Fresh herbs, and served with French bread.
Featured Beer- Metal Monkey Furious George
Course 2 - Butter and Fruited Gose Poached salmon served over a herbed couscous with shrimp and crawfish dumplings, roasted root vegetable medley, and finished with a seafood and mushroom broth
Featured Beer- Metal Monkey Bikini Bottom Pineapple
Course 3 - Chocolate Stout Doughnuts Topped with candied bacon and pecans and finished with a peanut butter and stout caramel sauce. Served with a buttermilk Vanilla Ice Cream
Featured Beer- Metal Monkey Funky Mucker
Big Fish Menu updated 1/5/22.
A message from the BigBash Family
All of us here at Big Fish want to take this opportunity to thank you for supporting us during this strange and stressful time, as well as during the good times. We are doing everything we can to provide. a safe environment for you and your family to enjoy as we slowly return to "normal."
Tim, Jackie and the staff at Big Fish.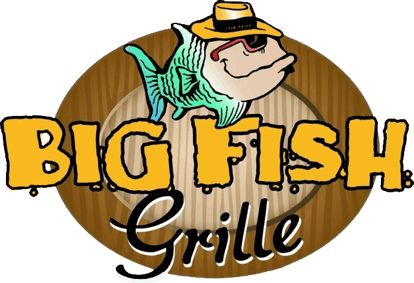 Starters:
Maryland Blue Crab Cake: lump blue crab, seasoned breadcrumbs pan fried served with remoulade. $20
Angry Mussels: smoked bacon, red chilies, garlic, white wine, scallions & herbs with bread for soppin'. $17
Shrimp Cocktail: 4 large shrimp served with house made cocktail sauce. $20
Cheese Flatbread: Toasted Naan with pesto, jack, cheddar & parmesan cheese. $10
Bacon Wrapped Sea Scallops: scallopswrapped with smoked bacon, pan seared, sriracha aioli. $22
Calamari Fritto: calamari flash fried served with cocktail sauce & lemon. (sauteed upon request) $14
Cigars: rolled flour tortillas stuffed with smoked chicken or crab-cake, cheese, & fried crisp.
Chicken $11 | Crab Cake $23 | One of Each $17
Fresh Shucked Oysters:
On the half shell

raw, served with cocktail

& mignonette

six $13 | dozen $24




Char Grilled

Cajun compound Butter & Parmesan Cheese

six $15 | dozen $27




Oysters Rockefeller

baby spinach, cream, garlic, parmesan,

& bread crumbs

six $16| dozen $28
Soups and Greens:
We use the freshest, highest quality Organic produce that we can buy from local farmers.
Smoked Chicken & Sausage Gumbo or Today's Soup: Cup $6 | Bowl $8
House Salad: Crisp Mixed Greens, tomatoes, red onion. $5
Loaded: adds Smoked bacon & blue cheese crumbles $7
Caesar Salad: Crisp hearts of Romaine, shaved parmesan, crouton & creamy Caesar dressing. $7/$10
Dressing Choices
Oak aged Balsamic Vinaigrette, Ranch, Blue Cheese, Green Goddess
Add the following to any salad: Grilled Chicken: $6 - Grilled Shrimp: $16 - Grilled Fish: $8
Crab Louie: Lump blue crab meat, avocado, grape tomatoes, cucumbers, hardboiled egg, crisp bacon, green goddess dressing, & crostini. $18
Seafood Options:
Maryland Blue Crab Cakes: Lump blue crab are pan fried served with fresh vegetable and potato. $45
Fisherman Platter: Fried fresh white fish, shrimp, and crab cake fritter with house-cut fries and our creamy slaw. $25
Blackened Salmon: Blackened Salmon drizzled with a chipotle cane sugar glaze, served with cauliflower whipped potatoes and green bean succotash. $30
Cioppino: Mussels, calamari, crab, shrimp, fresh fish, stewed with garlic, wine, tomatoes, onions, herbs, & served with bread. $28
Maine Lobster Tail: 6oz cold water Maine lobster tail grilled served with drawn butter and lemon, fresh vegetable and choice of potato. $50 (Twin|6oz. Tails $90)
Ahi Tuna: Ahi Tuna that is crusted with sesame seeds, seared rare, topped with a teriyaki sauce and served over a bed of red beans 'n rice with fresh vegetables. $30
Steaks 'n Stuff:
Our steaks are seasoned and seared at a high temperature to seal in all of its juices & flavor
Smoked Beer Can Chicken: Airline Chicken Breast brined overnight in a local pilsner, smoked over pecan wood, served with amber ale jus, andouille sausage hash and fresh vegetables. $20
Chicken & Cauli: Grilled all-natural Amish Chicken breast over cauliflower risotto (made with coconut milk) with mushrooms, garlic, bell peppers, scallions and topped with avocado. $23
Filet Mignon: Certified Angus beef, most tender, lean yet succulent, elegant buttery texture. 6oz -$35 or 2 – 6oz - $55
NY Strip. 12 oz.: Certified Angus Beef House cut NY strip. $37
Surf & Turf: Add a 6oz Maine Lobster tail $45. - Add 3 large shrimp $16
CAJUN CREATIONS:
Popcorn Crawfish: lightly battered and fried crawfish tails tossed in Cajun spice and served with remoulade sauce. $10
New Orleans BBQ Shrimp & Grits: sauteed shrimp deglazed with local pilsner finished with a New Orleans BBQ sauce served atop creamy organic grits. $24
Blackened Shrimp Alfredo: blackened shrimp served over fettuccini pasta with our homemade Alfredo sauce, served with bread. $23
Crawfish Etouffee: a New Orleans Staple. Crawfish tails mixed in with our slow simmered tomato and pepper creole sauce, served over white rice. $22
Jambalaya: smoked chicken, shrimp and andouille sausage simmered, served over white rice and our Holy Trinity Gravy. $22 sub pasta $6
Nawlins Mac n' Cheese: Cajun chicken, andouille sausage, garlic, aged cheddar cheese cream sauce, & penne pasta. $24
Shrimp Creole: jumbo shrimp sautéed in our house made tomato and pepper based sauce, served over white rice. $24
Sandwiches:
Sandwiches come with House-cut Fries and Pickle
Big Fish Sandwich: Grilled or Fried white flaky fish with shredded lettuce & tomato served on a French roll with house-made remoulade. $13
Big Fish Tacos: 3 tacos with grilled or fried white flaky fish, house made sriracha slaw, pickled onions, avocado served in soft corn taco shells. $15
Shrimp Po-Boy: Fried Shrimp, lettuce, tomato & onion served on a French roll with Creole Mustard. $17
Big Burger: ½ LB Black Angus Burger grilled served with lettuce, tomato and onion on a brioche bun. $14
Sub Chicken…………………………………….….………+$2
Nashville Hot Chicken: All-natural chicken that is battered and then fried, served on a brioche bun with Nashville Hot BBQ sauce, & pickles. $14
Surf 'n Turf Burger: ¼ LB Black Angus Burger, Crab Cake, Provolone Cheese served with our house made Remoulade. $19 - Double it - $30
Chicken Sandwich: Grilled all-natural chicken topped with bleu cheese, bacon, lettuce, tomato, onion, sriracha sauce, served on a brioche bun with choice of side and fresh vegetables. $14
Crab Cake Sandwich: Our famous crab cake pan fried with provolone & swiss cheese on a brioche bun. $28
Sides
Grits $6
Red Beans 'n Rice $6
Hand Cut Fries $6
Cauliflower Risotto $8
AddVeg (6) Shrimp (16) Chicken (7) White Fish (8)
Mashed Potato $6. Loaded add $2.25
Baked Idaho potato $5. Loaded add $2.25
House Slaw $4
Desserts:
Tropical Carrot Cake $12
Key Lime Pie $6
Bananas Foster Bread Pudding $6
Pecan Pie $7
Chocolate Delight $7
Our specials change regularly, from steaks & chops to seafood. Please check back frequently to get our latest.
Daily Specials
Anejo Old Fashion

$12

Blackened Catfish

Blackened catfish over dirty rice with fresh vegetable of the day and finished with bruleed lemon.

$240

Cajun Cobb Salad

shrimp and crawfish either blacked or fried over mixed greens with tomato, bacon, red onion, chopped egg, blue cheese and a bacon ranch dressing.

$15

Metal Monkey - Fonkey Mucker

Get fonkey with this dark and heavy imperial stout. Candi sugar, chocolate malt, cocoa, and roasted peanuts get freaky in an epic candy-like palate party. ABV - 9.3%

$10
Red Wines
Sola Cabernet

Bottle $32

Glass $8.50

Oberon Cabernet

Bottle $45

Glass $7

Schild Estates Shiraz

$35

Farm House Red

Bottle $30

Glass $9

Orin Swift Abstract

Bottle $65

Sliver Peak Pinot Noir

Bottle $28

Glass $8.50

Villa Sonia Merlot

Bottle $28

Glass $8.50

Saint Elie Cabernet (Lebanon)
White Wines
Schild Estates Chardonay

Bottle $33

Brownstone Chardonay

Bottle $28

Glass $8.50

Gaetao Moscato

Bottle $29

Glass $8.25

Villa Sonia Pinot Grigio

Bottle $8.50

Glass $7

Cline Cellars Farmhouse White

Bottle $30

Glass $9

Cline Cellars Rose

Bottle $8.50

Glass $8.75

Leonard Kreusch Riesling

Bottle $28

Glass $8.50

Villa Cornaro Prosecco

Single Serve Bottle $10

Horologist Sauv Blanc

Bottle $30

Glass $8.50

Rodney Strong Chalkhill Chardonnay

Chalk Hill Chardonnay boasts toasty vanilla and spice due to time spent in seasoned French oak barrels during fermentation. During the 11 months of barrel aging, we regularly stirred the lees in barrel, which imparts an elegant fullness and creamy texture on the palate. In the glass, the wine is both creamy and crisp, with flavors of golden pear, vanilla, Meyer lemon and a hint of minerality on the long finish.

$36
Drafts
Church Street: Lil Luci

A quenchable session hazy IPA. Blended Mosaic, Galaxy, and Simcoe hops. 5% ABV

$6.50

Metal Monkey: Romeo Pils

Traditional German pilsner; crisp, light and easy-drinking, named to honor their hometown!

$6

Metal Monkey: Bikini Bottom

Traditional sour German wheat beer begins with coriander and Himalayan salt, and then we add pineapple juice to round out this ridiculously delicious beer.

$5.50

Church Street: Mango Hefeweizen

$6

Brickstone Hop-Skip

Exploding with Citra, Amarillo, & Centennial hops, Hop Skip delivers massive citrus aromas and blasts of hop bitterness with a deceivingly smooth, clean finish.

$6

Goose Island: 312

Inspired by the city of Chicago and densely populated with flavor, 312's spicy aroma of Cascade hops is followed by a crisp, fruity ale flavor delivered in a smooth, creamy body that's immensely refreshing.

$5.50

Church Street: Heavenly Helles

One of Germany's quintessential beverages. Utilizing old world decoction-mashing techniques for a truly unique sweet malt character, this gentle drink also features a straw colored-clarity that's clearly heavenly!

$6

Metal Monkey: Furious George

An American Pale Ale hopped exclusively with Amarillo hops to give this beer an intense grapefruit & citrus flavor.

$6
Bottles & Cans
Bud Light, Coors Light, Miller Lite, Mich Ultra, Sharps

$3.25

Heinecken N//A

$4

Metal Money: Flashing Santa

Our seasonal winter warmer spiced ale brewed with fresh ginger root, cassia & ceylon cinnamon. This beer is perfect to celebrate the holidays.. 16oz can.

$5

Estrella Jalisico

An authentic Mexican beer with over 100 years of tradition. Estrella Jalisco is a flavorful pilsner that pours with a pale, golden yellow color and has a refreshingly light flavor.

$4

Perla

Pilsner imported from Poland, 16 oz bottle

$5

Guinness

$5

Revolution Sun Crusher

12 oz can

$5
Bourbon
Old Forester

Bulleit

Davidson

Few

Woodford

Almighty

Redwood
Rye
Kennay Farms

Bulleit

Few Rye

Old Forester
Whiskey
Paddys

Jack Daniels

Crown Royal

Seagrams 7
Scotch
Glenfiddich

Buchanan's Deluxe

Glenfarclas
Vodka
Elevate

Kettle One

Kountry (Locally Distilled)

Prairie (Organic)

Stoli

Stoli Rasberry

Titos

Zumbroka
Gin
Hendricks

CH Distillery

Mile High

The Botanist
Rum
Blue Chair Mango

Blue Chair Coconut

Blue Chair Key Lime

Blue Chair Spiced

Calypso Spiced

Almighty
Cordials & Liquers
Bailey's Irish cream

Tia Maria

Hartleys Brandy

Godiva Chocolate Liqueur
Tequila
Dulce Anjeo

Mante Alban Gold

Cincoro Silver

Milagro Silver
Cocktails
Big Fish Bloody Mary

House made Bloody Mary using Organic Tomato Juice as a base, secret spice blend with Lobster stock and house infused vodka.

$7

Big Fish Hot Mary

House made Bloody Mary using Organic Tomato Juice as a base, secret spice blend with Lobster stock & house vodka infused with jalapeño peppers.

$7

Mind Melting Big Fish Bloody

House made Bloody Mary using Organic Tomato Juice as a base, secret spice blend with Lobster stock & house vodka infused with Carolina Reaper peppers.

$7

Mules

Pick your style and we will make a Mule with our house liquors and Stoli Ginger Beer with fresh lime.

$8

Huricane

Our version of a hurricane made with Spiced Rum & house rum all mixed with some fruit juices and a touch of grenadine.

$12

Hurricane, Coconut

Our version of a hurricane made with twist, Premium Coconut rum, house rum, mixed with some fruit juices and a touch of grenadine.

$14

Hurricane, Key Lime Pie

Our version of a hurricane made with twist, Premium Key Lime rum, coconut rum, mixed with some fruit juices and a touch of grenadine.

$14

Mango Hurricane

Our version of a hurricane made with twist, Premium Mango rum, coconut rum, mixed with some fruit juices and a touch of grenadine.

$14

Sangria Red

House recipe of a blend of wines, liquors and served with Fresh Fruit.

$9
Martinis
Chocolate Martini

Godiva Chocolate, house infused vanilla vodka, chocolate liqueur shaken and served up.

$9

"Hot" Chocolate Martini

Godiva Chocolate, house infused jalepeno vodka, chocolate liqueur shaken and severed up.

$9

Cosmopolitan

Vodka, triple sec, cranberry and lime juice, shaken and served up.

$9

Lemon Drop

Vodka, Caravella Lemon Liqeur, fresh lemon juice shaken and served up.

$12

Hot 'n Dirty

House infused jalepeno vodka, splash of vermouth & olive juice - shaken and served up with olives.

$10

French Martini

House infused vanilla vodka, Chambord, pineapple juice - shaken and served up.

$9

Anejo Old Fashioned

Anejo Tequila made with our traditional method of Old Fashioned with Orange Bitters.

$12